One night, I was a millisecond away from drifting off to sleep, when the Lord spoke three words. They came, bing-bing-bing. I knew if I yielded to sleep, the words would vanish. So I wrenched myself awake and stumbled through the dark to find a notebook and pen. That's hard to do if you have sleep issues.
Truth is, I treasure the voice of God—in Scripture, but also when He speaks in fresh ways.
I wrote down the three words. They made no sense at the time.
God regularly speaks in mysteries, bypassing my intellect to reach my spirit. An interruption to my thoughts is often God interjecting His voice in curious ways. It's like a treasure hunt as I ponder and search out the meanings. God puts a tidbit of revelation on my horizon as an appetizer. If I search for more, it often leads to a full course spread on His banquet table.
Over the past twenty years, I began to realize that God knows the English language. I don't know why—but that came as a surprise to me. Maybe I thought He was limited to Hebrew, Aramaic and Greek.
Having a command of the King's English, God can easily bring a single word or short phrase across the screen of my mind. Sometimes He whispers it in my ears. And the words He speaks are potent with meaning, offering guidance or warning. Some words reveal the enemy's angle. Others are like keys, unlocking barricaded doors. Instructional words carry the tenor of fatherly advice. Some phrases drip with poetry and love. Others calm my worried heart, bringing supernatural peace. And all His words bolster my faith.
Jamee Rae wrote about fresh words from God, using the Greek word, "rhema," which means an utterance. "The rhema word in Biblical terms refers to a portion of Scripture that 'speaks' to a believer. In most cases, a rhema word received while reading the Bible applies to a current situation or need…(It) is timely and extremely valuable." Rae gave two Scriptures that pointed to their importance:
Matthew 4:4 says, "Man shall not live by bread alone, but by every word [rhema] that proceeds out of the mouth of God."
In John 6:63, Jesus emphasized this point when he said, "The words [rhema] that I speak to you are spirit, and they are life."
If we're doing life with God, we need to engage in a two-way conversation.
So God offered me three rhema words. The first one was BEMOAN, which means to lament, to express grief over or look upon something with regret or displeasure.
In my experience, God uses words and meanings in both symbolic and concrete ways. For example, in last week's post, I talked about using a flounder (a fish) in my dream, to coax a bear out of my bedroom. But flounder has another meaning as well…"to hesitate in confusion." That spoke volumes to me.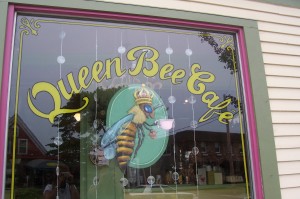 When I heard God say the word BEMOAN—it somehow translated to, "Bee Moaning." You see, my nickname is "Bee." My father used to call me "Sue B." because my maiden name was Susan Beth Donaldson. My father-in-law unknowingly called me the same. My husband, Duncan, just calls me Bee—or Honey Bee when I am sweet, or Worker Bee when I am busy, or Queen Bee when…well, you get the picture.
In fact, I wanted "Bee Hill" as a pen name, because there are at least two other writers in the world named Susan Hill.  To differentiate my name, WaterBrook Press had me include my middle initial. "Susan D. Hill" sounded way too formal—as if I was writing a thesis for crying out loud. My editor chided me, saying if you go by "Bee Hill," you might end up naming your child "Apple," and people will think you're from Hollywood. Right.
Anyway, God knows all about nicknames. He knew Dimitri's real name was Raoul.
So why would God address "bemoaning" with me? Because He knows me so well. He sees the hidden pockets of sorrow concealed in my being. He knows the damage they can cause.
I had already laid down my disappointment with God, but sometimes I still carry disappointments about life. I press on with a stiff upper lip. Some would call it perseverance. Others might see it as denial.
But God seems to call it what it is, bringing it to light so I won't carry it alone or in secret.  In a way, He was saying, "I know your sorrow inside. Please come away and talk with Me about it."
In the past, He said it like this: "Come to Me, all who are weary and heavy-laden, and I will give you rest. Take My yoke upon you and learn from Me, for I am gentle and humble in heart, and you will find rest for your souls." (Matthew 11:28-29)
Bemoaning is about expressing grief or sorrow out loud. It can turn into complaining, but it doesn't have to. Someone once said that lamentation (bemoaning) before God is one of the highest forms of worship…taking your heartaches to God, laying them before Him, and trusting Him with the outcomes.
On that late night, when I scribbled, "BEMOAN" in my notebook, I didn't know I was carrying a boatload of sorrow and disappointment. Two days later it all spilled out.
What about you? Do you take the hard stuff to God, or do you just tough it out?
(This post is a continuing story…more to come next week, including the other two words!)