Okay, so it's late one night. I'm finishing up the dishes, when my husband says, "What that noise?" I'm dog-tired but shut off the water to see what he's talking about.
BEEP.
I hear the familiar "chirp" of a smoke alarm battery about to die. It's loud enough to be annoying.
We have two smoke alarms close together—one in the hall and another a few feet away inside the bedroom door. We stand underneath both trying to determine which one is beeping.
Wait for it…BEEP.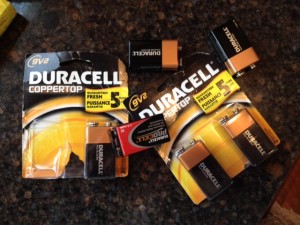 It has to be the bedroom one. I get a ladder and a new 9-volt battery. Once Duncan snaps it in, we pause and listen. BEEP. Good grief! There's no sleeping with that going on. We check expiration dates on the battery packages and try other new ones. BEEP.
I close the door to see if it's really the hall smoke alarm after all. BEEP.
It's not.
Who are you going to call at 11:00 p.m.? I get on my computer to watch YouTube tutorials, thinking—how complicated can this be? Duncan is so irritated he's threatening to cut wires.
I watch several How-To-Stop-The-Beep videos and say to myself—we must be idiots!  I know how to change a battery.
BEEP.
Duncan gets the pliers and finally yanks out the electric-wire plug from the back of the smoke alarm. There! That should do it for now. Meanwhile, I'm learning all about 10-year batteries on YouTube.
BEEP.
What on earth? The plastic device is still beeping without electricity or battery power. It's The Smoke Alarm From Hell! We are driven mad! How can this be? Duncan's about to get a sledge hammer. I want to bury it outside in the snow.
BEEP.
Then it occurs to me—I had placed a carbon-monoxide warning device on the dresser behind the TV, just inside the bedroom door. It isn't plugged into any outlet, and the battery is old. It proves to be the hidden source of all the chirping.
Afterwards, I laid in the dark too wired to sleep. I felt angry that I got angry. How did a small plastic device rattle us so acutely?
But the real problem with anger isn't day-to-day irritations like chirping smoke alarms…or that guy who took your parking place…or a lost pair of glasses. The most damaging kinds of anger are relational and often involve those closest to us.
Anger is a natural human response. It shows we're alive. As I told my little granddaughter, it's not wrong to feel mad. The big concern is what we do with anger. Hidden anger—unexamined and unresolved—is a precarious thing. It can destroy relationships, our work life, and even our health.
And as I mentioned last week, God wanted to talk to me about it. Trying to be The Good Child created a pattern of stuffing anger. So one night, I had a dream about a small bear cub that I secretly kept in my childhood bedroom.
Dreams about a real place, especially scenes from early life—are significant. God is showing you something that affected you in your vulnerable years—sometimes profoundly.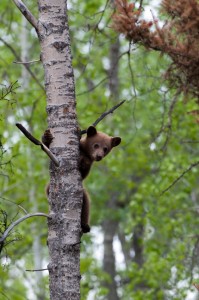 So this baby bear in my bedroom is getting bigger every minute. As it grows, I realize it isn't cute anymore and has actually become dangerous. I have to do something, but I must get rid of it without anyone knowing.
I rig a plastic tunnel that looks like a dryer vent hose, except much larger. It runs from my door to the nearest outside door. Opening my bedroom door feels too risky, so I cut a large circle out of the door that leads straight into the tunnel.
The bear will not leave.
I go and find a fish, which happens to be a flounder. I use it to coax the bear out. If the bear doesn't leave soon, it will be too big for the escape hatch. I feel all kinds of tension. I am not only scared of the bear. I'm also worried that someone will discover  I've been keeping a bear cub in my room.
When I woke up, the outcome remained uncertain.
Years later, at a seminar on understanding dreams and visions, I discussed that particular dream with a group of friends. The symbolism became clear. The bear represented anger. When hidden, it can grow into resentment and bitterness.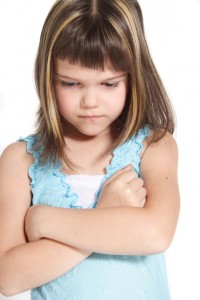 One person said the type of fish—a flounder—brought up added meaning. To flounder means to struggle or be in a situation of serious difficulty. It also means to hesitate in confusion.
Clearly this describes the struggle in the dream scene, but the "hesitation" part pointed to an internal conflict. I know anger can lead to bad behavior. But part of me feels alive in that anger and justified to keep it. To give it up feels like letting down my defenses. If I do, what hurt me in the first place might happen again.
Anger is a form of self-preservation.
Concealed anger can signal us like a smoke alarm with a low battery. And if you're awake in your spirit, the chirping will drive you mad. You know something has to be done about it.
Does this make sense to you? Share your thoughts here…
(More on this topic next week)