"A great sorrow and a great fear had come into all the world, and the world was changing. Our minds were driven out of the old boundaries into thoughts of absolute loss, absolute emptiness, in a world that seemed larger even than the sky that held it.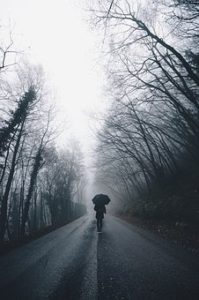 "Time doesn't stop. Your life doesn't stop and wait until you get ready to start living it. Those years of the war were not a blank, and yet during all that time I was waiting. We all were waiting…moving in wide circles around our sadness.
"The pleasures that came then had a way of reminding you that they had been pleasures once upon a time, when it seemed that you had a right to them. Happiness had a way of coming to you and making you sad. How can you be happy, how can you live, when all the things that make you happy grieve you nearly to death?"
* * *
These excerpts from Wendell Berry's moving novel, Hannah Coulter, beautifully reveal a woman's deep reflections on life. Here she's pining for her soldier husband in WWII, but the words touch a chord for any who have suffered loss.
What resonated with me is the "waiting" Berry describes, the suspension from living life, and how happy things sometimes intensify the sadness.Continue reading