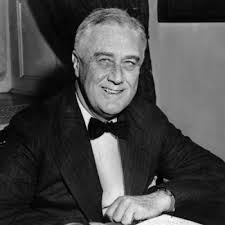 Franklin D. Roosevelt is remembered for saying, "The only thing we have to fear is fear itself. " By 1933, the Great Depression was severe, and skepticism ran high. One historian said FDR's famous saying was in a sense ridiculous, because there were many things to fear—no food on the table, no job in the morning, a country flailing in uncertainty. On the other hand, he noted, the words served to suspend disbelief in a way that brought hope. FDR's fatherly optimism touched the raw wounds of an entire country and soon brought about a turning point.[i]
A few words, a single thought, ultimately became life changing.
Imagine God in FDR's place, touching your raw wounds and bringing hope with a few words. Is it hard to go there?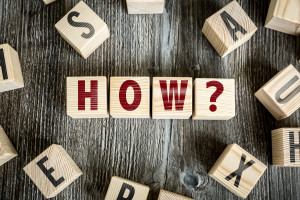 We live in a cynical culture. Distrust is a hardened mindset. We doubt the sincerity of politicians, the character of priests, and the motives of corporations. Skepticism touches almost every aspect of life, including spiritual matters.
People not only have misgivings about the church, they wonder if God is just an invention of our imaginations.
Even the faithful are unsure about encountering God in any real kind of way. It might feel presumptuous. Some may have difficulties trusting a God who allows suffering. Others believe God is there, but they've never experienced His presence. That kind of thing is reserved for special people. It couldn't possibly be for ordinary Christians.
What would it take to suspend your disbelief?
Throughout church history many people experienced points of contact with God. Some came from ordinary lives, while others had special callings.
John—the one who rested his head on Jesus' chest—saw great visions of heaven and recorded them in the book of Revelations.
Thomas Aquinas, an intellectual giant of Christendom, wrote 25 volumes averaging 650 pages each on matters of faith and theology. Yet in 1273, near the end of his life, he was so moved during a mass that he never wrote again. He said, "Everything I have written seems like straw in comparison with what I have seen and what has been revealed to me."[ii]
Brother Lawrence, a Carmelite monk in the 17th century wrote about abiding in the presence of God as he washed dishes. He said, "(My) habitual, silent, and secret conversation of the soul with God, often causes me joys and raptures inwardly, and sometimes also outwardly, so great that I am forced to use means to moderate them and prevent their appearance to others."[iii]
Joan of Arc…a simple uneducated girl, became the only person in human history of either sex, to hold supreme command of a nation's military forces at the age of seventeen. How? God prepared her for the call on her life with angelic visitations for over three years. She felt His presence and knew many things by revelation that she would not humanly know.
Blaise Pascal, a physicist, mathematician, philosopher and theologian wrote about an experience of God that moved him so deeply that he kept his written account of it sewn in the lining of his coat. He titled it, The Memorial:
"In the year of grace, 1654, on Monday, 23 November…from about half past ten in the evening until about half past twelve, FIRE.
God of Abraham, God of Isaac, God of Jacob, not of the philosophers and scholars.
Certitude. Certitude. Feeling. Joy. Peace.
God of Jesus Christ.
Deum meum et Deum vestrum (My God and Your God)
Joy, joy, joy, tears of joy…
Let me never be separated from Him.
We keep hold of Him only by the ways taught in the Gospel.
Renunciation, total and sweet.
Total submission to Jesus Christ…
Eternally in joy for a day's training on earth."[iv]
I could go on. Countless other people describe encounters and experiences with God like Catherine Marshall, Madame Jeanne Guyon, Jonathan Edwards, David Brainerd, Daniel of the Bible, and Oswald Chambers among others. If you're hungry for more stories, read Catch The Fire, by Guy Chevreau.
Most of us want a sense of God's nearness. It's inherent in our design.
As Catherine Marshall said, "Few of us ever completely outgrow a longing for the comfort of a mother's love when we are hurting." God says in Isaiah 66:13 "As one whom his mother comforts, so will I comfort you." He knows we need it humanly and spiritually.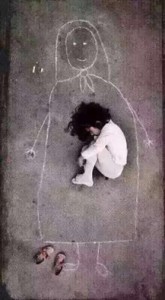 Perhaps you've seen this Facebook photo. Posted by Karthik Subramanian, the photo shows a little orphan girl in Iraq. After drawing a picture of her mother, she took off her shoes and curled up for a nap. It's wrenching to see a child with such longing, but that tightness in your chest is how God feels about you.
We can choose to let God in. We can spend time soaking in worship music…stay in a listening posture…wait for Him to speak a word or give a picture, flooding us with joy and love. It begins by believing it's possible.
The popularity of Sarah Young's devotional, Jesus Calling, shows how much we long for God to speak to us Face to face, Spirit to spirit. After many years of journaling her own thoughts, missionary Sarah Young decided to focus on listening to what God wanted to say. With a ready pen, she wrote her impressions and balanced it with Scripture. It forever changed her life, and now has touched others all over the world.
Her devotionals are wonderful, but we must experience God for ourselves.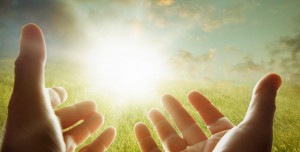 The Bible is like a long love letter sent from the other side of the world. We can feel some measure of God's nearness through it, but alone, it is not enough.
God is the author of that love letter, and because of Jesus, the Holy Spirit makes the long journey to see us in person! How much more there is to know!
Suspend your disbelief. Curl up with God. Tell Him your deepest thoughts. Ask Him your hard questions. And take note of anything that comes to mind. Experiencing God has everything to do with being available and believing He wants connection more than we do!
_______________________
[i] Ken Burns documentary. The Roosevelts: An Intimate History
[ii] Albert and Thomas, Selected Writings, ed. Simon Tugwell, Paulist Press, New York, 1988, p. 266.
[iii] Brother Lawrence, The Practice of the Presence of God," Fleming H. Revell, 1958, page 36.
[iv]Blaise Pascal, Pensees, trans. A. Krailsheimer, Penguin Books, 1966, p. 309.