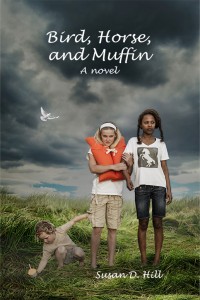 Bird, Horse and Muffin
Susan D. Hill, Author
Ten-year-old Iris Somerset encounters a living God when her mother dies unexpectedly. She and her two brothers face a troubling future. Their father's instability undermines the family, yet God is there—speaking and moving.
Her budding faith carries her through frightful uncertainty, until a reckless choice one fine summer day changes everything.
As her world unravels, Iris and her older brother travel to post-Amin Uganda with their uncle who runs an orphanage. In a land of despondency, Iris' heart begins to mend as she confronts her worst fears and experiences the wonder of God through the eyes of war orphans.
A Genesis Contest Finalist – recognized as one of the top three novels in Women's Fiction by American Christian Fiction Writers, 2012
Available on Amazon
Softcover and Kindle version
Click here to read an excerpt.