"I believe in Christ and confess Him not like some child; my hosanna has passed through an enormous furnace of doubt."
– Fyodor Dostoevsky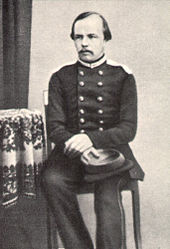 Orphaned at age seventeen, Dostoevsky had his whole life before him. Though he graduated from a military engineering school, honoring his father's wishes, he did not want to be an engineer. With a small income from his father's estate, Dostoevsky devoted himself to writing and achieved instant notoriety with the publication of his first novel, Poor Folk. That success gave him access to intellectual and literary circles in St. Petersburg, where he became involved in the sociopolitical issues of the day.
Now watch as God dramatically intervened in his circumstances…
Dostoevsky joined the Petrashevsky Circle, a utopian socialist group that secretly published propaganda against the Russian Tsar. In April 1849, he and others were arrested for sedition and sentenced to death. While he waited in prison for his execution, a small group of women brought him a New Testament. As he pored over the Gospel accounts, a profound shift occurred in his understanding of life.
But after eight long months in prison, execution day came in late December. Blindfolded and stripped, the first three prisoners were tied to stakes. Dostoevsky stood with the next group of three, waiting. A firing squad took aim. At the very last moment,Continue reading